Magento Development Services performed by experts

Goivvy LLC provides a wide range of Magento Development Services in the United States. We are an official Adobe Partner. With more than ten years of experience, our developers are all Magento Certified and are hailed as experts in the Magento community. We also like to take a more personal approach to their clients, one that larger companies wouldn't have time to give to their own clients.

What We Offer
Whether you need a website built from scratch or need a bug fixed, we offer custom magento development services including migration, upgrades, performance optimization and custom ecommerce solutions. Read below to find out more.
Search Engine Optimization
Low conversion rate? Traffic drop? We can help.
We can improve google search positions and bring more potential customers.

Here is what we usually do for our customers:
Perform an initial SEO audit
We discuss results together and find an optimal strategy
Fix issues, benchmark and track progress
We will make sure your Magento is configured correctly for the best shopping experience. In many cases UX issues result in a poor conversion rate and we will fix it.
For example, your site might have a duplicate content issue. That's when huge chunks of text are duplicated across multiple pages. Google likes fresh and unique content and it doesn't like repetitions.
We can suggest ways to eliminate duplicates and make your eCommerce content unique and more appealing to search engines.
Contact us today to find out more.
Magento 2 and Core Web Vitals
Core Web Vitals measures how fast and user-friendly your website is. Google uses it as one of the ranking factors.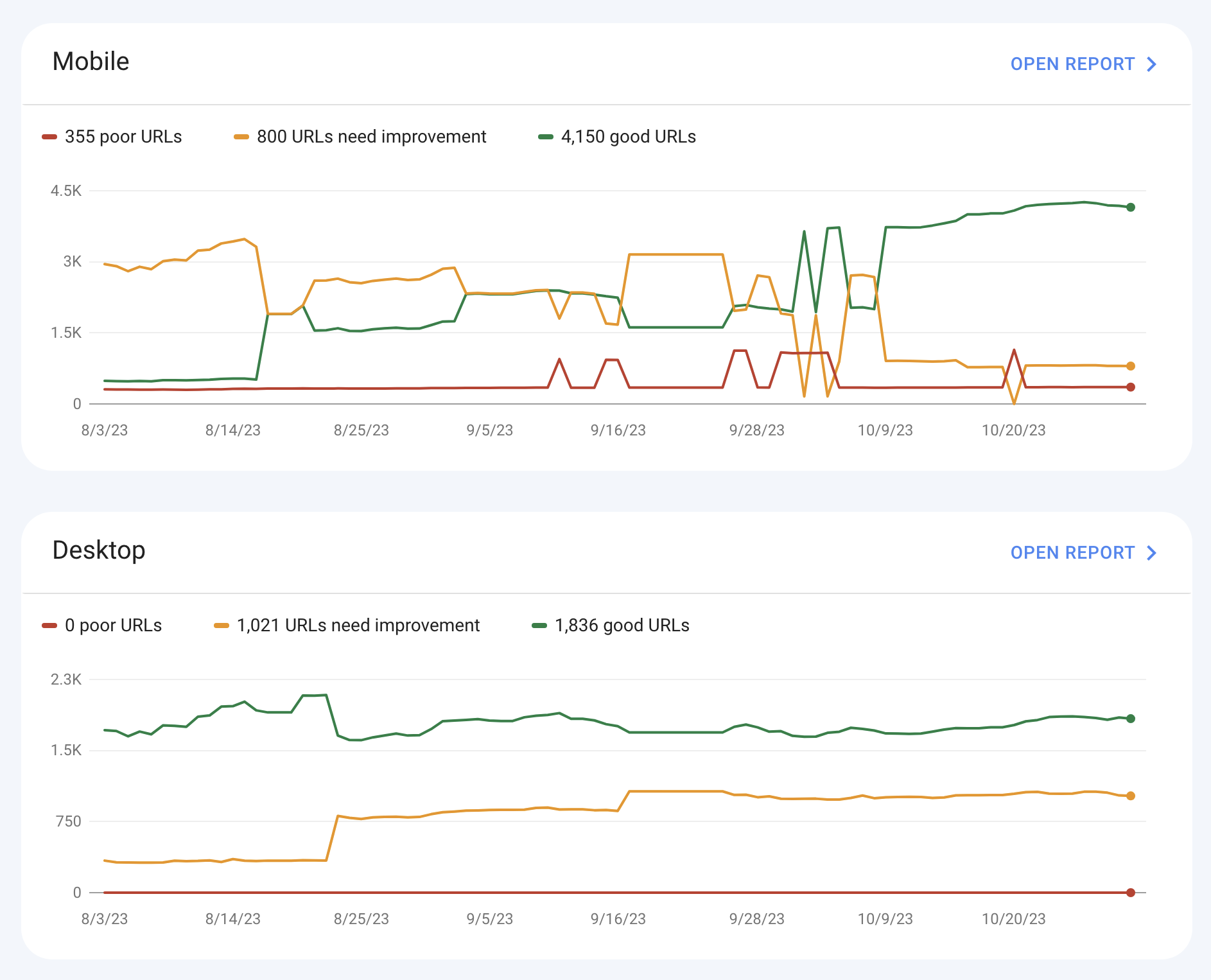 URLs with red Core Web Vitals provide poor page experience.
We can improve Core Web Vitals and fix many of its warnings. Our service is for both mobile and desktop. Your report will look better after our consultation.
For example, some of your pages have a long LCP (Largest Contentful Paint) time. LCP shows how much time it takes for a browser to show your main text or image block.
In many cases, removing redundant Javascript and CSS helps reduce LCP for Magento 2 sites. We will see what scripts and styles a page doesn't need and remove them. It will make a page faster for a customer and improve Core Web Vitals.
Contact us for a free quote.
Magento Speed Optimization Service


One of the most important things about a website is the speed. Over the past few years, search engines and customers have become very critical of website speed and our developers understand that more than anything.
Did you know that 47% of consumers expect a page to load in about two seconds or less?
Did you know that 40% of people abandon a website that takes more than three seconds to load?
Did you know that eCommerce site speed directly impacts conversion rates. Nobody likes slow checkouts.
That means that if your website is loading slowly, you are losing half of your customer base before you can even convert them.
Goivvy LLC provides remarkable site speed optimization for Magento websites. Our team realizes that there are many things you can do to speed up your Magento site, but having a professional ensures that your website will increase its site speed without having to worry about messing it up.
Our speed up Magento services include:
Server Optimization
TTFB Optimization
MySQL and PHP Optimization
Magento Development
At Goivvy, our team of developers know that Magento's best practices are the reason why sites excel.
Our developers work hard to make sure that your Magento site works properly and there are no bugs on the site.
As a matter of fact, if our team of Magento developers find bugs on your website, we would fix it at no additional cost to your company.
We would also make sure that only Magento's best practices were in use, such as:
Maintaining and monitoring website's core files
Generating performance benchmarks before making site changes
Performing extension audits and maintaining site speed
Integrate Magento with CRM or ERP
If you need to connect with Quickbooks, Salesforce, NetSuite or any other external application - we can help!
We know Magento API and could troubleshoot a broken service connection. We could suggest an extension to sync with an ERP or your choice. If you need help setting it up - we are just a free quote away.
Contact us with more details - let us know what you need.
Magento Upgrade and Security Patch Installations
One of the great things about Magento is that it provides security patches.
Magento security patches are built to make sure that there are no vulnerabilities in your Magento system.
If your Magento website has received a security update, that simply means that Magento may have provided the following to your site:
Quality fixes
Security Patches
Documentation Updates
You'll more than likely also be notified of any security updates that happen in your website.
While security patches are important, installing them can be quite tricky for someone who isn't very Magento savvy.
Our developers understand that there are different ways to install a security patch. Each way depends on what host your website is on and how you access your server.
Our developers are trained in installing security patches in just about every way, for just about every website.
Alternatively, it's important to know when to update your Magento site.
Did you know that in March 2018, Magento ended support for Magento 2.0.x users?
That means that anyone using Magento 2.0.1, 2.0.2 or any other variation of Magento 2.0.x has not received any security updates for their Magento website in about a year.
On an even more concerning note, Magento websites that do not receive security patches become more prone to cyber attacks.
This is because hackers tend to learn technologies as they become outdated so that they can take the time to learn the technology without the possibility of it changing.
Because of that, it is very important to stay in touch with news about Magento updates.
Not only do our developers understand that, but they also stay updated with Magento news and are always aware of the latest updates.
At Goivvy, we always inform you when you need to update your Magento website.
Our developers are also well versed in performing Magento upgrades and making sure that your website is always updated to the latest version.
Magento 2 Migration


In June 2020, Magento will stop providing support for Magento 1. If you are a Magento 1 site owner, this means that by June 2020, you will be entirely responsible for your own site security.
This also means that:
There will be no more security updates for Magento 1
There will be no more security patches for Magento 1
There will be no more security support for Magento 1
If there are no security updates or support, that means that your Magento 1 website may be prone to cyber attacks from hackers.
Being left with such outdated technology can lead your company to cyber attacks and, ultimately, profit loss. However, having such outdated technology can also cost your company its website.
That is why it is so important to Migrate your website to Magento 2.
Among other things, a Magento 2 Migration has a lot of benefits. Such benefits include:
Faster website loading time and better user experience
New, enhanced website features
More flexibility for personalized features
Better extension updates
While Migrating your Magento 1 website to Magento 2 may be a stressful time, our developers are here to ensure that your website will receive a smooth Magento 2 migration.
Build a Magento Site From Scratch
Starting a new online store is a wonderful thing. It's an opportunity to work with a clean slate. You can work with new designs, new branding, new marketing plans...the possibilities are endless.
At Goivvy LLC, our developers know how to create websites that will attract sales and provide excellence customer experience.
We take the time to listen to our clients and think about their competitors' websites.
We make sure that the website that we build is user-friendly, functional and maximizes the best practices for your business.
We build sites that load fast and deliver high performance.
Magento Custom Extension Development
Magento is full of countless extensions and tools to help you with your website. However, too many extensions might not be the best thing for your website.
Our developers understand that useful and functioning plugins are a valuable thing. Our team can build a magento extension that will help you get the most out of your site.
We can help with a magento integration with external services like dropshipping and custom payment gateways.
Building Plugins
Our developers know how to build custom, useful plugins for your site.
Previous Magento 2 plugins that our team has created include:
An extension that helps you defer JavaScript
An extension that hides the "add to cart" button and asks the customer to call for a price.
An extension to send emails to abandoned carts

Enhancing Plugins

Our developers also know how to enhance plugins for a site.

We can add features to plugins so that you can limit the number of plugins you have for your site.

By doing this, you can increase your Magento website speed while keeping your backend more organized.

Magento Security Audit Service




Aside from site speed and site responsiveness, a really important factor to look into when creating a website is security.

Having any type of website requires a good amount of security, but having an eCommerce store means that your website needs to be as secure as possible.

Magento Enterprise to Community Downgrade

Sometimes, businesses start out with the Magento Enterprise, only to find out that they can not afford the yearly fee of maintaining the website.

At Goivvy, our developers want to see your business succeed.

That is why we believe that any reason you may have for wanting to downgrade to the Community version of Magento is a valid reason.

The truth is that Magento Enterprise has a lot of nice extensions and features that are meant to help large businesses.

While these features may be tempting for your business, there are two major factors that small businesses and startups should look into when choosing between Enterprise and Community:

With Magento Enterprise, your website can handle traffic from thousands, even millions, of people at once. However, if your traffic is not up to where you would like it to be, then you should consider switching to Magento community, where your site would not be able to handle as much traffic, but you would be able to keep your website running just as efficiently and more economically.

Magento Day-to-Day Support and Maintenance

Our developers understand that you can not just leave a Magento site alone. These websites need constant maintenance and attention on a day to day basis.

Our team always keeps an eye on how your site is doing and they always fix any issues that pop up on your Magento site.

You will communicate with a developer directly, we don't waste resources on costly project managers.

Magento Consulting

Goivvy LLC can consult on Magento site architecture, infrastructure, project management and more. With more than 10 years of experience, our knowledge could be a valuable asset.

Here are a few examples of what we could do:

You need a new site feature. We could suggest a plugin or plugins that do the job. No need to hire a developer and code a feature from scratch.
You feel your site has been hacked. We could investigate and see what's going on.
You need to be PCI compliant. We could outline what needs to be done.

We are experts you can trust. Don't take my word for it - see what our customers say:

Our google reviews:

"We've been beyond pleased with our experience with Goivvy! The service we have received before, during, and after our Magento 2 migration has been professional, prompt, and straightforward. Our original website was outdated and in need of a lot of fixes, and Konstantin was exceptionally patient and helpful as we made big-picture decisions and countless detailed adjustments to the new site. The migration itself went remarkably fast; we expected the business to be down for a day or two, but everything was up and running within a couple of hours. All of our questions have — and continue to be — answered, issues are explained and resolved, communication is notably reliable, and his recommendations have been on-point. We appreciate Konstantin's help and would highly recommend Goivvy for any and all Magento-related work." - Amanda McKinley

"When it comes to Magento there's no one better!" - Anthony Idi

Why Goivvy LLC?

We are a Magento development company. Our team may be small, but our developers are quickly building a name for themselves as some of the best Magento developers. There are so many reasons as to why you need our team of Magento developers. However, the best reasons can be listed as follows:

Magento Developers in the United States

Our team of Certified Magento Developers is all based within the United States, in the EST time zone. That means that our developers are much more accessible during the normal 9 am - 5 pm business day.

So if there was ever an issue with your website, you would not have to wait for the next day to have it fully fixed.

Magento Community Experts

Aside from being certified, our Magento developers are very active within the Magento community. With a reach of over 215,000 people, our developers fall within 10% of contributors on Magento StackExchange.

A Personal Approach

Larger companies tend to have so many clients, that they do not have the time to really sit down and talk to their clients about how to improve their website.

They have the time to plan out your eCommerce website and get to know what your company goals are.

You will always be able to speak with a developer quickly and our team can ensure you that your site issues will be fixed quickly.





What is Magento?

Magento is an eCommerce platform. It's the most advanced, yet customizable, eCommerce platforms on the internet.

Benefits of Magento

Full Customization

The Magento platform is hailed as one of the most customizable platforms by eCommerce experts.

The beauty of Magento is that you do not have to settle for themes. With a great developer, you can create your company's website to look and function just as you have always imagined it to be.

B2B Flexibility

With Magento's B2B flexibility tool, you can transform your website's buying experience. Your website will be able to:

Increase customer loyalty
Reduce costs
Drive new growth

On your website, business customers can now:

Create their own company accounts
Set up multiple buyers and define their roles and responsibilities
Request for special quotes

Meanwhile, businesses can now offer:

Custom catalogs and prices lists
Payments on account
Faster purchasing with easier order forms

Essentially, you can now use your website to build customer loyalty and increase retention all while focusing on using your storefront to attract new business.

Scalability

With Magento, your eCommerce website can hold up to hundreds of thousands of people at a time.

There are also many great features that help you get the most out of your site, such as:

Page Caching with Varnish
Image compressor to help your site load faster
Enhanced analytics tools to give you a clearer view of your site's health

Magento in 2023

Magento 2 and 1

Magento 2.4 is the latest release of Magento's program. Magento 1.x represents the earlier releases of Magento.

While a majority of Magento users are on Magento 1, new Magento users will only be able to download Magento 2 for their websites. This is because, in June 2020, Magento will stop supporting Magento 1.

But Magento 2 has proven itself very useful for many users. With Magento 2, the platform has become more functional and easier to manage.

Magento Commerce Cloud

Magento Commerce Cloud is a hosting management platform for Magento Commerce. The platform provides advanced features and infrastructure that is made to maximize your site's performance.

Magento Commerce

Magento Commerce is a paid version of Magento that comes with high-quality eCommerce tools for growing stores. With Magento Commerce, your site will:

Be able to utilize ElasticSearch
Be able to see your content before it goes live with Content staging and preview
Be able to access advanced B2B functionality

Magento Open Source

Magento Open Source is the free version of Magento. This version carries everything you need to build a fully functional eCommerce site. With Magento Open Source, you will:

Have regular access to Magento's marketplace
Meet a great community of developers who would like to see your store succeed
Be able to see site analytics
The ability to sell on a worldwide scale

Questions on which platform is right for you? Feel free to reach out to one of our developers today!

Do you have a project in mind? Contact us today for a free quote!