Hire Magento 2 Developer USA - Freelance Dedicated Expert

Hello! Are you looking to hire a dedicated Magento 2 developer? If so, you have come to the right place. I'm Konstantin, a Magento freelance programmer living and working in the USA.
Contact me with your project details now!
I'm an official Adobe Commerce Partner.
I'm BBB Accredited with A+ rating.
I'm 5 star rated on Google.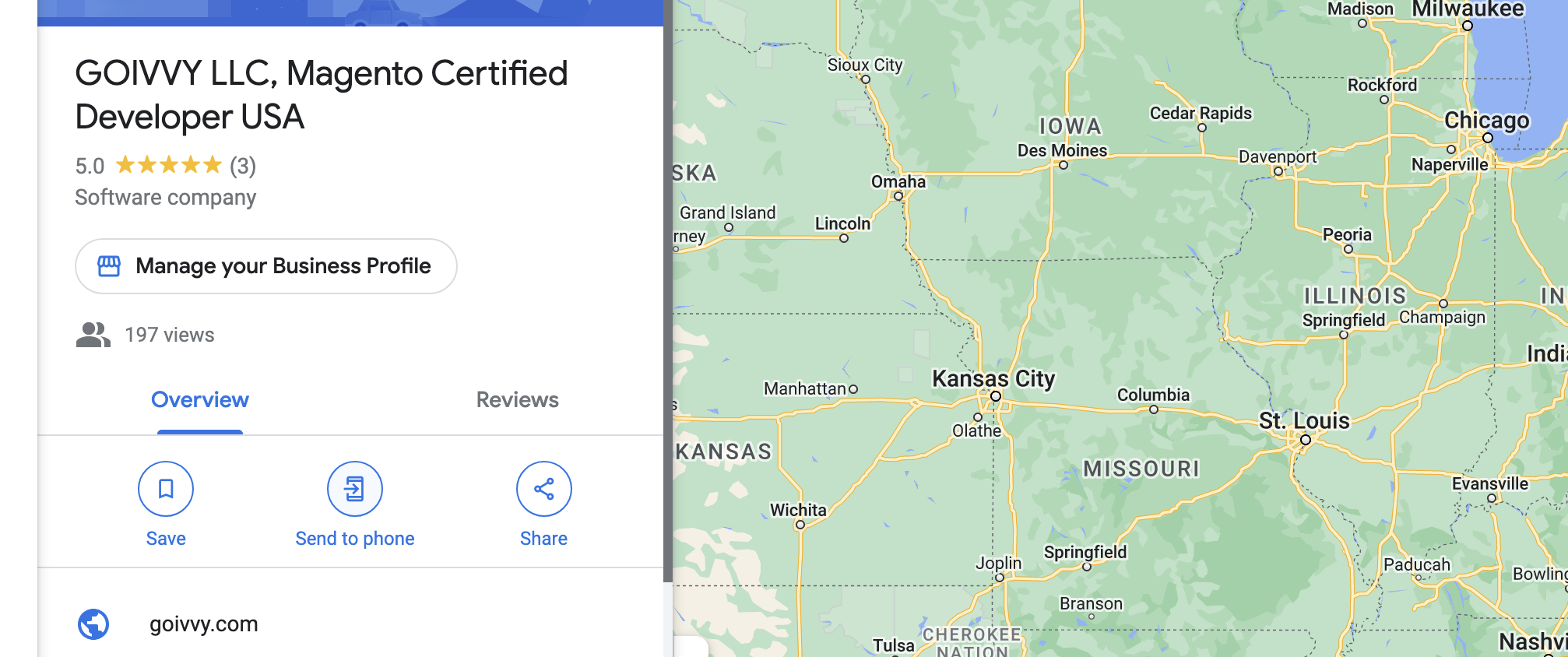 I live in Georgia, USA, Eastern time zone. I regularly publish tutorial articles on Adobe official website.
Do you need to build an eCommerce website, speed up a slow ecommerce store or fix a bug? - I can help!
I have been a Magento web developer for over 10 years. I'm an active member of the community. I frequently answer questions and report bugs.
I am in top 4% of contributors on StackExchange.

I also regularly share my talents by writing various guides and tutorials on my blog.
I work with Adobe Commerce so you can use me as an enterprise developer for your needs.
How am I different?

Top 3 reasons to hire me:
I have 10+ years of experience.
I do work and communication myself. You don't waste money on project manager fees.
I pay close attention to details.
I'm not just another Magento agency, I'm your go-to software development professional.
My extensive experience and personal approach help to distinguish me from other coders.
I always communicate directly with clients. You won't be speaking to a project manager. You will receive a Magento expert response.
I'm better than an average development company because you pay me directly. You save on project managers and bloated development team.
You are paying for the expertise, knowledge and reputation that my experience brings.
I can consult on various topics: UI modifications, migration to Magento 2, performance issues, SEO, theme development and upgrade.
I solve the problems that other experts can't.
I offer the following services:
1. Performance Optimization

Slow checkout leads to fewer sales. Slow product search leads to poor conversion.
If your eCommerce site is slow - I can help.
3 things I do:
Identify poor code and optimize it.
Remove redundant CSS/JS files.
Consult on custom modules to make a site faster.
I work with Magento 2 and Magento 1. I can troubleshoot Adobe Commerce.
Varnish, Redis, ElasticSearch, Apache and Haproxy - I know it all.
I can lower your TTFB (time to first byte) and improve Google Core Vitals Score. Your server could be misconfigured. I can make it run faster.
I will audit the codebase and the server environment to find and solve the problem.
A third party extension could make a site slow. I know how to identify which one.
Interested in speeding up your site - drop me a line.
2. Frontend and Backend Customizations

Do you need to implement a new feature or fix an annoying bug?
3 things I could help with:
Restyle an old theme.
Create a new feature.
Integrate a site with a custom service.
My Magento web developer skills have helped to fix numerous websites. I would be happy to help you as well.
Need a custom extension? I'm capable of creating one based on your business requirements.
Need to connect an ERP or shipping? I can integrate popular services. Contact me.
3. Magento Upgrade


I can help you upgrade to the latest version of Magento (2.4.6-p1). I can upgrade from version 1 to 2.
Here is what 2.4.6-p1 brings:
PHP 8.2 support
10+ security bug fixes
Javascript library updates
Staying up to date with software releases secures a magento store.
My upgrade roadmap:
Take a files and DB backup
Upgrade a staging site
Test, test, test
Repeat step 2 on production
Fix issues if any and go live
Contact me for a personalized quote.
4. Migration to Magento 2


Are you still running Magento 1?. You're compromising your clients as it's not secure. It's time to move to M2.
How I migrate:
We decide what theme to use.
I move data to a stage site.
I setup a theme of choice on a stage site.
We test, test and test.
I repeat steps 2 and 3 on production.
I fix issues if any and we go live.
Whenever you are ready to move over to M2, I am here to help.
My experience will ensure that the transition will be as painless to your online business as possible with as little downtime as possible.
So that the migration goes as smoothly as possible, we will first perform testing on a stage environment.
I can help you move to Adobe Commerce from any other eCommerce solution platform. It doesn't matter what you run: Shopify, WooCommerce, BigCommerce etc - I can help
I will make sure your data stays intact. I will make sure downtime is minimum.
Contact me for a free quote today!
5. Adobe Commerce to Open Source Downgrade

Are you tired of paying huge fees to license Adobe Commerce (known as Magento Enterprise)?
I can help you transition to an open source version. It will save a lot of money without losing too many Ecommerce features.
How I downgrade:
We decide what extensions to keep
We decide what extensions to look alternatives to
We decide how to port commerce theme
I downgrade a stage site
Test, test, test
I repeat step 4 on production
I test and fix issues if any
Go live
This process is something I have done successfully for previous clients.
Find out more if you are interested.
6. SEO services

You don't get as many clients as you'd like? I can get more traffic to your eCommerce site.
You get enough visitors but people don't buy? I can fix your conversion rate.
Search engine optimization is an ongoing process but major problems if any should be fixed first.
Here is how I start working on SEO:
Perform an audit
Identify issues and layout a priority list
Fix problems
Setup a roadmap for regular updates
It takes some time for Google to pick up content updates. Your rankings will start going up in a couple of months.
There are things you can do yourself to keep search engines happy:
Don't post duplicated content
Don't make two landing pages for the same keyword
Search for and fix 404 (broken) links
Keep robots.txt and sitemap XML up to date
Don't copy / paste product descriptions from other sites
I can help with paid traffic as well. I can fix an under-performing Google ads campaign.
Submit a form now to get a quote!
Magento Extension Development
I can create custom magento extensions to your specific needs.
I follow best practices. My code doesn't slow online stores.
3 Short Reasons to Hire Me:

10 years of experience
EST timezone and prompt communication
Attention to details
Who are my clients?

My clients are primarily USA-based Magento ecommerce businesses. Below you will see just a few examples:
Surveillance-video.com: They sell various types of video cameras. I am doing maintenance and custom development for them.
Paperpapers.com: Paper in all imaginable sizes. I am doing customizations and upgrades.
Divegearexpress.com: Diving equipment. I have helped them solve their 'slow magento' problem.
What Have My Clients Said About Me?

"Konstantin and the whole dedicated team at Goivvy.com have done a fantastic job for Surveillance Video. I am really happy with their exceptional service . When I have a question they are always there to answer, they have more than an outstanding customer service. After having many bad experiences with my previous developers, I am glad that I have found Goivvy. They are true professionals and their Magento knowledge is incredible, I am impressed. I would recommend Goivvy's services to all my friends and clients."
Lowell Bradford , www.surveillance-video.com
"Thanks again for the great service and we will be back for more! We have been working with Goivvy since 2016. Goivvy is always so helpful, patient and professional by answering our questions. Wonderful to have a service company that you know you can trust!"
Andreas Wolframm, https://www.tassenfuzzi.de/shop/
"Excellent work. We are very happy with the results. The site speed has improved dramatically thanks to Konstantin's expertise and professional work. Konstantin is very knowledgeable, easy to work with and a real gentleman. We will hire him again in the future for any magento /programming work."
Jean Paul, www.phen.com
If you want to become my client - contact me now!
I know Magento Open Source and Adobe Commerce
I'm an Adobe partner. I'm familiar with a paid Adobe Commerce platform.
I can help small businesses and large corporations.
By hiring me, you'll receive work that will support future upgrades and customizations.
Need Magento Web Developer Now?

Tell me about your project. If you need to hire magento 2 developer - consider me! I'd be glad to help.