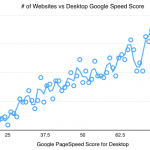 In the previous article I talked about how to get top 30k shopping websites. Now I am going to analyse "Magento part" of 30k which comes to 2352 online e-commerce shops.
Google Page Speed Score Distribution
I went over a list of top magento sites and gathered Google PageSpeed Score for all of them.
Desktop View
First lets see what the distribution is for desktop view.
We see that the average Google Page Speed score for Magento on a desktop is around 75%.
Mobile View
Mobile score is worst than a desktop score for most websites.
On average top Magento website has 60% Google Page Speed Mobile Score.
Magento Sites with the highest Google Page Speed Scores
Lets see what websites score high with Google PageSpeed. I take into account all frontend pages and don't judge a website by its homepage only.
I am going to list just 3 online shops that I think have the highest Google Page Speed figure. Not only these websites score high they also feel really fast.
Place #3
www.musicandarts.com - sells music records.
This Magento website has 85-90% desktop Google Page Speed Score:
but it doesn't have mobile version of the website and the corresponding score is not that high:
MusicAndArts has simple theme and it loads under 2-3s for most of the frontend pages. Checkout and cart are quick!
What could be done to improve Google Page Speed Score even more:
make website responsive

combine images into CSS sprites
Place #2
www.ceramic-tile4u.com - sells first quality brand name ceramic and porcelain tile, glass, stone, wood and vinyl.
The shop scores 86-90% for desktop view:
and 74-77% for mobile view:
Page load time - 2-6s depending on the page. Add to cart and checkout is pretty slow((
The website is responsive.
What could be done to optimize magento performance:
scale and optimize images

remove blocking Javascript and CSS
Place #1
www.myrtlewoodgallery.com - sells Myrtlewood Products.
It scores 86-90% for desktop:
and 75-77% for mobile:
The website loads under 3s as measured with www.gtmetrix.com. Add to cart and checkout works really fast.
The website has responsive design.
What needs to be done:
css/js merged and compressed

remove blocking javascript and css

set dimensions for some small images
Summary
On average a top magento website has Google Page Speed Score at 75% for desktop and at 60% for mobile. If you score higher than that you are in a good spot.
For most of the websites defer parsing of Javascript is the main problem. Many suggest moving javascript to the bottom but does it help?
Do you have a website with high overall Google Page Speed metric? Share it in comments!
Other articles you might be interested in:
Our Magento extensions you might be interested in:
If you find this post interesting do not hesitate to sign up for our newsletter and join the 853 people who receive Magento news, tips and tricks regularly.
Thank You!