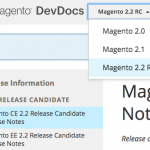 Magento 2.2.0 Release Candidate 1 is out. Here are some of the main changes:
No support for PHP 5.6 and Varnish 3 from now on. Support for PHP 7.1, MySQL 5.7 and Redis 3.2 and Varnish 5

.

The new pipeline deployment process that minimizes downtime
Performance improvements as compared to Magento 2.1
Magento 2.2 RC1 Installation
First you need to clone 2.2.0-preview branch from the official magento2 github repository:
git clone -b 2.2.0-preview https://github.com/magento/magento2.git
Now go to magento2 folder use composer to download your the required packages:
composer install
You will see something like this:
Once completed go to http://yourdomain.com/magento2/setup and complete Magento 2.2 RC1 installation.
You can check out the detailed installation instructions on the official Magento 2.2 install page.
Magento Sample Data Installation
You can install sample data with Magento 2.2 RC1. For that you first need to clone Magento 2 Sample Data repository:
git clone https://github.com/magento/magento2-sample-data.git
Then go to magento2-sample-data/dev/tools folder and issue:
php -f build-sample-data.php -- --ce-source="<your Magento 2.2 folder absolute path>"
Do not forget to set permissions afterwards, the commands I use might be too broad but that is OK for development:
chown -R www-data:www-data magento2-sample-data
chmod -R 775 magento2-sample-data
Now go to your magento2 folder and issue:
php bin/magento setup:upgrade
Then will install sample data on top of Magento 2.2 RC1 installation.
Instructions were taken from the original magento tutorial.
New Magento Business Intelligence Menu
The main visible backend change to me is the new Advanced Reporting button on dashboard:
This is the part of the new Magento Business Intelligence reporting based on the acquired RJMetrics technology.
The menu is under Reports tab:
And it requires you to sign up with RJMetrics:
Magento 2.2 Performance improvements
Now with 2.2 version your customers will be able to browse and shop on your site while indexers are running in the background. Apart from that Magento team improves handling of big number of Customer Groups, Tax Rules and cart items (you can now safely have at least 300 (!) items in cart).
No major features are added
Apart from Business Intelligence (BI) I don't see any major features in Magento 2.2 RC1 compared to the latest Magento 2.1.7. That is mostly about bug fixes and polishing as far as I am concerned.
You can take a look at the complete list of release notes.
Strugle with slow Magento! We can help! Fill out the form below.
Like the article? Share:
Other articles you might be interested in:
Our Magento extensions you might be interested in:
If you find this post interesting do not hesitate to sign up for our newsletter and join the 871 people who receive Magento news, tips and tricks regularly.
Thank You!