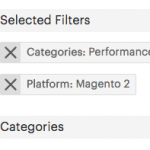 Today I present Magento 2 site optimization extension that I do not recommend installing. I have tested it and it proved to add more harm than good.
PS: This strictly comes from my personal experience. I am going to back up my points but you are free to ignore it.
Apptrian Minify HTML CSS JS
First of all the name is misleading - you do not need an extension to minify CSS/JS with Magento 2 - it comes as a built in feature.
Second once you enable this extension it will add 130ms to your time to first byte (TTFB) which was proved by profiler:
I can't stress how important TTFB is. I will only say this is one of Google page ranking factors (unlike google pagespeed score which Apptrian Minify HTML is advertised to improve by 2 out of 100 points).
They also have maximum minification feature that slows down TTFB even more.
Disagree? Leave a comment!
Strugle with slow Magento! We can help! Fill out the form below.
Like the article? Share:
Other articles you might be interested in:
Our Magento extensions you might be interested in:
If you find this post interesting do not hesitate to sign up for our newsletter and join the 871 people who receive Magento news, tips and tricks regularly.
Thank You!