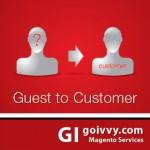 We have just developed a free Magento 2 extension to convert guests to registered customers.
It is also available on Magento Marketplace.
Simple installation, no configuration required, works out of the box.
Need help with a Magento site? Hire me!
Like the article? Share:
Other articles you might be interested in:
Our Magento extensions you might be interested in:
If you find this post interesting do not hesitate to sign up for our newsletter and join the 871 people who receive Magento news, tips and tricks regularly.
Thank You!