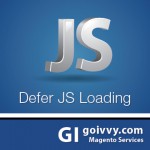 Update: Now available on the official Magento Marketplace.
We are happy to announce our free Magento 2 Defer JavaScript extension is up and ready to be downloaded.
What it does it moves all JavaScript to the page bottom.
Solves render-blocking Javascript problem.
Improves Google PageSpeed score and lowers start render time.
Check out User Guide.
Some benchmarks for your consideration:
PageSpeed Desktop:
PageSpeed Mobile:
Gtmetrix:
Webpagetest.org:
If you find this post interesting do not hesitate to sign up for our newsletter and join the 845 people who receive Magento news, tips and tricks regularly.
Thank You!