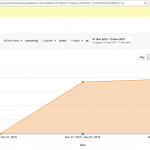 Magento 2 is the major upgrade to the popular open source eCommerce platform. It features the updated backend interface, the new Luma theme and various performance and usability enhancements.
I checked out the new Magento Marketplace and tried some free magento 2 extensions. Here are a few of them that are worth installing:
Exto analytics
One page / step checkout
Shop By Brand
Free Blog
EU Cookie Compliance
1. Exto Analytics
This extension by Exto generates sales charts and reports. It visualizes all your shop order history.
It is better to install the extension manually - I have tried installing it via magento marketplace (component manager) but it failed due to module-ui conflicts.
To install:
download it from official website
unzip into magento root folder
clear magento cache
run php bin/magento setup:upgrade
check reports at Reports > Exto Reports
I installed Exto Analytics v1.0.4 on magento 2.0.5 and it worked without any issues except a minor css layout bug:
Just a few features of this nice module:
Sales overview by any product attribute i.e. Sales by Manufacturer, Category, Color, Size etc
Product to product comparison
Filter by order status, order creation, update date, store view
Aggregate data by day, week, month, quarter, year
total or items statistics
Exto Analytics even lets you compare two date period statistics:
2. One Page / Step Checkout
This extension from IWD creates a nice onepage checkout. It simplifies customer checkout experience potentially leading to more sales.
I installed it via magento backend System > Web Setup Wizard > Component Manager on magento 2.0.5. After installation I had to patch vendor/iwd/opc/etc/adminhtml/system.xml file and put these lines after <system>:
 <tab id="iwd">
         <label>IWD</label>    
 </tab>
Besides that it works fine.
It has very basic configuration options and works out of the box:
One note though - it requires Awesome Font. You can install it with this little font awesome for magento 2 extension.
3. Shop By Brand
Shop by brand extension lets you create separate frontend brand pages and helps customers select products by manufacturer.
I installed it on magento 2.0.5 via component manager. To set it up you first need to populate manufacturer attribute - go to Stores > Attributes > Product, search for manufacturer attribute and create some options:
Then go to Shopbybrand left side backend menu and Re-sync brands. You should now see your manufacturers:
Then populate brands with name, logo image and url key:
You can now go to frontend and check Sony by brand page:
The module also places shop by brand link on top menu and shop by brand sidebar block.
4. Free Blog
This extension enables blog functionality for your magento 2 store. It lets you create blog categories, blog posts, import blog from wordpress and aheadworks blog.
I installed it on magento 2.0.5 via magento marketplace. The extension configuration lets you fine tune almost every aspect of it:
This free blog module is 100% worth trying.
5. EU Cookie Compliance
This little extension puts a EU Cookie Compliance notification bar to your magento 2 store.
I installed it on magento 2.0.5 via component manager. The configuration is simple:
I only listed the extensions that I liked and that worked out of the box without major hacking. There are around 100 free magento 2 modules for versions 2.0 and 2.1 listed on magento marketplace.
Do you have an extension to suggest? Share it in comments!
Need help with a Magento site? Hire me!
Like the article? Share:
Other articles you might be interested in:
Our Magento extensions you might be interested in:
If you find this post interesting do not hesitate to sign up for our newsletter and join the 871 people who receive Magento news, tips and tricks regularly.
Thank You!